A Child's Island Folk Music Album
A CD for Children and the Young at Heart
A collection of children folk songs and stories by a singer from Martha's Vineyard. Mark Alan Lovewell sings, plays guitar, banjo, concertina, and harmonica. He is a folk singer better known for his old sea chanties and storytelling. These songs are shared to keep them alive and amid the young voices of a new generation.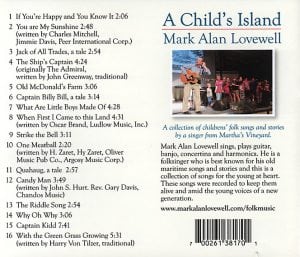 Track List:
1) If You are Happy and You Know It 2:06
2) You are My Sunshine 2:48
3) Jack of All Trades 2:54
4) The Ship's Captain 4:24
5) Old McDonald's Farm 3:06
6) Captain Billy Bill 3:14
7) What Are Little Boys Made of 4:28
8) When First I Came to this Land 4:31
9) Strike the Bell 3:11
10) One Meatball 2:20
11) Quahaug 2:57
12) Candy Man 3:49
13) The Riddle Song 2:54
14) Why Oh Why 3:06
15) Captain Kidd 7:41
16) With the Green Grass Growing 5:31
Special Thanks
This album is dedicated to Alan and Emma.
© 2013 Mark Alan Lovewell
All songs and stories are believed by the singer to be in the public domain except where noted. We wish to tribute and remember the many folk singers who have sung these and other songs: Oscar Brand, Gale Huntington, Pete Seeger and Josh White. The list is long.
Recorded, mixed and mastered by Phil DaRosa, at The Print Shop, Martha's Vineyard, MA.
Thanks to my friends Alan Wilson, Phil DaRosa, and my family for their ongoing support.
Album Feedback
We continue to receive positive feedback from many of you!
We received your disc and I want to say thank you so much. It has reached the top of the charts with my son.  It is what he listens to now. Nothing else. I catch him singing phrases of songs that I don't recognize and then after my third or fourth full listen of the album I realize they are songs of yours. You put a great twist of creativity and enthusiasm for the classics and keep us entertained with the content of the new songs and stories. – Matt Shimala of Fairhaven
Purchasing
Send a check for $26.25, which includes $5 shipping and Massachusetts sales tax (for Massachusetts residents $1.25) to:
Mark Alan Lovewell, P.O. Box 2034, Vineyard Haven, MA 02568.
To order by mail, send a check. The CD costs $20, plus $1.25 for 6.25% Massachusetts Sales Tax, plus $5.00 for shipping.
Total: $26.25 for Massachusetts residents, $25.00 for orders from out of state.